A brief introduction to a species will appear below around every three months.
After reading this short introductory profile you are invited to contribute your experiences and photographs of this species. These contributions will be used to compile a more comprehensive Species Profile which will appear in 'Lilies and Related Plants'.
Please send your contributions to Mel Herbert at lindmelve@yahoo.co.uk
Lilium akkusianum Gämperle
Described from a few kilometres south of the town of Akkuş in Ordu province, Lilium akkusianum is the most recently described, by René Gämperle in 1998 following his visit to the locality in 1996, of the eight species of Lilium recognized in Turkey.
It really is a most beautiful plant. The leaves are notably hairy as are the flower buds which open to glorious fragrant flowers which are white to very pale yellow with striking orange to cinnabar pollen.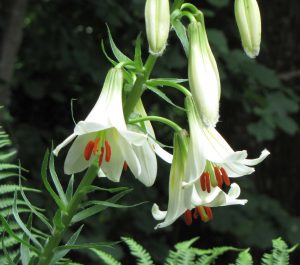 Cultivation is not too difficult but like other Caucasian lilies it generally takes several years to reach flowering size from seed which has delayed hypogeal germination. Good drainage with some sun but cool moist roots, in fact typical lily conditions, seem to suit it very well.