SEED LIST
Growing lilies from seed is a great way to ensure you obtain virus-free stock, increase your bulbs & have a lot of fun in the process. The RHS Lily Group issues a Seed List in January/February each year. With contributions from members around the world, it is widely regarded as one of the most valuable sources of lily seed. Members often have wider interests, so our Seed List includes other Liliaceae, bulbs and lots of perennials too.
Here are some past Seed Lists so that you can see what we have been able to offer in past years:
For full details please go to the Seed List page.
ONLINE BULB AUCTION
We will be holding our 2021 Bulb Auction online…but not 'just' because of COVID-19! Our inaugural online bulb auction held in October 2020 was a resounding success. We had three times as many bidders as usual, most of whom had never bid previously.
How to contribute bulbs
As ever, without your donations of bulbs there will be no auction. So the first step is to please, quite literally, dig deep! Bulbs should be sent to: George Battle, Oaklands, Gorst Hill, Rock, Kidderminster, DY14 9YR
Donations to arrive: Monday 11 to Saturday 23 October 2021
Online Auction: Sunday 24 October to 6.00pm Saturday 30 October 2021
Bulbs despatched: w/c 3 November 2021
Full details, including how to bid, will be published in the last week of September. For phytosanitary reasons, we can only accept bids from Lily Group members living in the UK.
GARDEN VISITS
Visit to The Savill Gardens: Saturday 17th July 2021
Wick Lane, Englefield Green, Egham TW20 0UJ
 10.30-11.00 am: Arrive & park in the Savill Gardens car park. Coffee in restaurant on arrival – buy own coffee etc.  11.00 am: Welcome by member of the Lily Group Committee.
11.15am – 1.00pm: Guided tour to look at the Lilium species & cultivars
1.00-2.00 pm: Lunch in Restaurant. Members to purchase what they require. We hope a member of garden staff  will join us for lunch.
2.00-2.45pm: Discussion on how the Lily Group could help the Savill Gardens cultivate more Liliums. Discussion to be led by a member of the Lily Group Committee.
3.00 pm: Tea available in restaurant. Members free to wander in the gardens.
Visit to The Dorothy Clive Garden Thursday 12th August 2021
Willoughbridge, Market Drayton. TF9 4EU
10-10.30 am: Coffee on arrival. 10.30 am Welcome by a member of the Lily Group Committee.
11.00 am: Conducted tour of the garden
12.30-1.30pm: Lunch
1.30-2.30 pm: Group discussion. Members please bring plants to show and for discussion.
3.00 pm: Tea.
3.30 pm: Free to tour the garden independently or to set off for home.
International trips
International trips to see lilies growing in their natural habitat are a fairly new venture for us, with very successful and enjoyable visits to Turkey and Greece already made.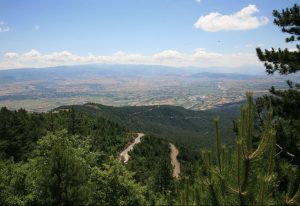 To join in these activities, please click here Join us